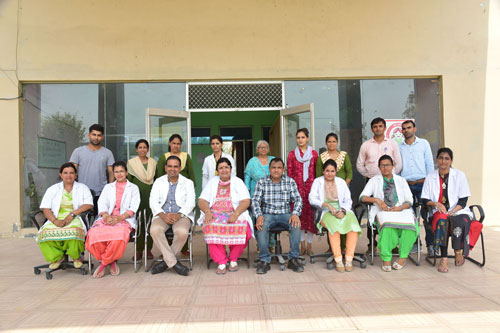 SVM is the realization of the dream of its chairman. It is a pioneer institute of nursing offering basic and higher nursing education. It was established with the objective of promoting education, research, and development in the field of nursing. Emphasis is on making student learning rather taught. The processes at SVM college of nursing is to transcend conventional nursing courses.
OUR VISION
---
To have a community of excellent nurses who are committed towards the development of our institution and the society. We wish to make students a professional thinker along with the excellent performer. The students are well prepared for the responsibilities of life within a diverse and independent society.
We work with the vision of becoming a renowned name in the sector of nursing education. Our main aspiration is to enrich the nation and to keep updated with the new diseases. Our institutions create the perfect ambiance to learn.
Diversity
Quality
Accountability
Equality
Engagment
Integrity
Students centeredness commitment to transformation
Leaving centerdness service.
Respect for history
We believe in providing a nursing course in Sampla to cater the need of the people from a different community.
Providing a strong foundation which will enable nurses for further professional growth.
Believe in rendering comprehensive nursing care to individual and family regardless of caste and creed.
Believe in preparing nurses who will maintain professional dignity and follow ethical laws and principles.
Goals
---
Prepare nurses to hold different responsibilities and positions like nurse educators, researchers in public as well as in the private sectors.
Periodically review the changing trend and introduce a new program to serve the nation at large.
It is inaugurated in the year—. SVM a nursing college in Rohtak is a place for educationist. The infrastructure has peaceful surroundings and environment equipped with house classrooms, computer labs and a modern laboratory and hospital with the highly equipped technology for the best nursing course in Rohtak.
SVM is a team of educationist, professionals having rich experience who undertakes each program with a passion for excellence. In addition to this professionals at SVM have held clinical research in a variety of healthcare programs and agencies to regularly keep updating with the latest skills required for teaching the professional nursing course in Bahadurgarh.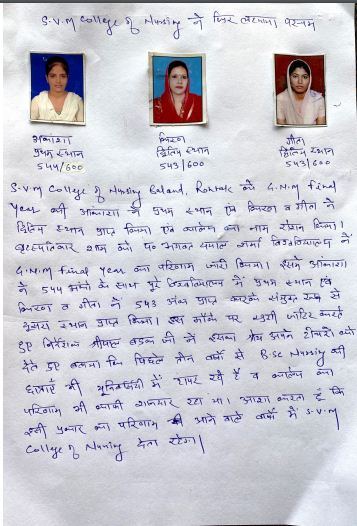 Focuses on Research-based learning.
Provides Practical Training in all aspects.
Highly experienced Professional Team.
Affordable Education.